The Finest Craftsmanship
All of Duane's homes are created and built from the foundations of traditional architectural style.
Exquisite Detail
Our arched openings, stone and brick accents, moldings are just some of the personal touches that make each of our homes one of a kind. 
Much more than a custom home builder
We are equipped to handle most of your commercial needs. 
Duane McQuillen Construction, Inc.  offers complete design and build services in Custom Residential, Custom Remodeling & Custom Commercial in the Central Florida area.
Whether you are considering new construction, an addition, remodeling, or renovating a home or business; we can help you make your ideas a reality.
Duane McQuillen Construction, Inc. was established in 1983 and is located in Polk County, Lakeland, Florida.
Duane McQuillen is a State Certified Builder and Duane McQuillen Construction, Inc. is a respected member of the Polk County Builders Association, the Florida Home Builders Association, and the National Association of Home Builders.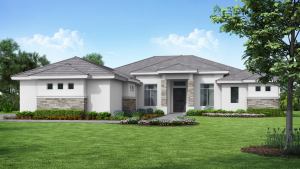 Testimonials
Customer satisfaction is truly their goal
"Duane McQuillen made the whole process of building our home very easy. He is patient and detail oriented which is, as we discovered, a very important thing to have in a builder. For anyone building a custom home, we would highly recommend talking with Duane McQuillen Construction.  Customer satisfaction is truly their goal."
C&J Daniels
Building our home with you was so easy and stress free!
Duane – Words cannot express our gratitude for all you've done.  We loved working with you and appreciate your very creative insight!  Building our home with you was so easy and stress free!  You did an incredible job and you build a gorgeous house. 
Thank you for everything. – Dye
We knew right away that we had found the right person for the job.
Never in a million years did I think I'd be writing a testimonial about our experience in building a custom house.  But then again, we never thought a company like Duane McQuillen Construction existed in the construction business.  From the very first time we met Duane, we knew right away we had found our builder.  Throughout the entire building  process, Duane and his team went above and beyond the call of duty to make us happy.  For our design meetings,  Duane always came prepared with samples, house plans, what-if scenarios and cost-saving ideas that ultimately allowed us to build a gorgeous custom home on budget and on time! 
Sincerely,  L&C Hurtado 
Simply hands down exceptional
I want to say "Thank You Duane" for the professional and friendly experience I received while building our home it was simply hands down exceptional.   After looking at other builders in the area none compared to the custom home you built for my family, from the quality of materials used on both the interior and exterior to seeing you at the job site everyday which was most  reassuring that the workmanship was going precisely as you said it would. 
 Sincerely – C Peters
Very happy with everything
Thanks so much for building us a beautiful home.  We are very happy with everything and would gladly recommend you in the future.  Sincerely –  L&L M
We Love Our New Home
We found  Duane to be honest, personable, kind and professional.  He was able from the beginning to allow us the freedom to look at various house plans and develop a plan that seemed to best fit our  needs.  Duane was able to blend his  years of experience in construction to help guide us and make the necessary suggestions that enabled us to have  a  truly "custom built " home to our liking. The finishing work, moldings,  cabinets, details of which he upholds are remarkable and add to the beauty and design of the home. – The Daniels
Duane McQuillen is the most reliable builder I know
Duane McQuillen Construction really stands by their work, even when it's caused by someone else's mess!  Most reliable builder I know!  Plus his staff is amazing! - G Lovering
I wholeheartedly recommend Duane McQuillen Construction, Inc for any construction project you may have
Duane McQuillen of Duane McQuillen Construction, Inc is a terrific contractor of both residential and commercial buildings.  Duane built both the home for my family of 6 in 1989 and my law office in 1996.  I've experienced no trouble with either and during the construction process he was always available to answer questions and provide solutions for any matter that arose.  Duane is a hard-working, honest man of integrity who prides himself on doing a project right, on time and budget.  I wholeheartedly recommend Duane McQuillen Construction, Inc for any construction project you may have.  - R Miller
His team is fantastic to work with
My husband and I hired Duane to do a remodel/new build last year and we're so happy we did!  His team is fantastic to work with and the whole experience was great.  The finishes and custom work we had done are top quality.  We were able to pick out everything we dreamed of and then more! - M McGee
I love my home
We have been in our house built by Duane McQuillen for 2.5 years now.  I just recommended him today to 2 different families looking to build.  I'm a complete type A control freak and I had a virtually flawless experience.  He was extremely organized and responsive to me.  We spoke every few days.  I love my home, and should we ever build again, Duane is our guy! - B Gregory
Highly recommend him
Quality Builder and also helped me build my office.  Highly recommend him. - M Lever
We were very pleased with the entire process
Duane McQuillen Construction Managed our Club Pilates studio buildout and they did a fantastic job.  They completed our project on time, provided excellent customer service and paid great attention to detail.  We were very pleased with the entire process and would highly recommend them in the future!  - Z Schlobohm
Duane is a fantastic builder
Duane is a fantastic builder that will always treat his client's with respect. I have always been pleased with the work he has done for me and I have recommended him to many of my friends and family. -Lee Saunders 2/2021
I live in one of his houses that were built in the '90s and still look's new
Wow, he builds a great house. I live in one of his houses that were built in the '90s and still look's new. Will recommend him always for new construction.  -Arlene Muldrew 2/2021